+ 43 (720) 775050
Support:
Online
Wir warten auf Ihren Anruf :)
Unsere Arbeitszeit:
Mn — Fr, 7:00 — 23:00 (GMT)
Support:
Offline
Werden online in: 2h 34 min
Unsere Arbeitszeit:
Mn — Fr, 7:00 — 23:00 (GMT)
Wettbewerb starten
Design Contest is simple
Every designer has a chance to win — from beginners to professionals. Pitch your creative idea to the contest holder and you'll have a chance to be selected as a winner.
Your chances of winning are increased with additional prizes for 2nd and 3rd places!
Participate in design contests and 1-on-1 projects
Build a personal portfolio
Geld verdienen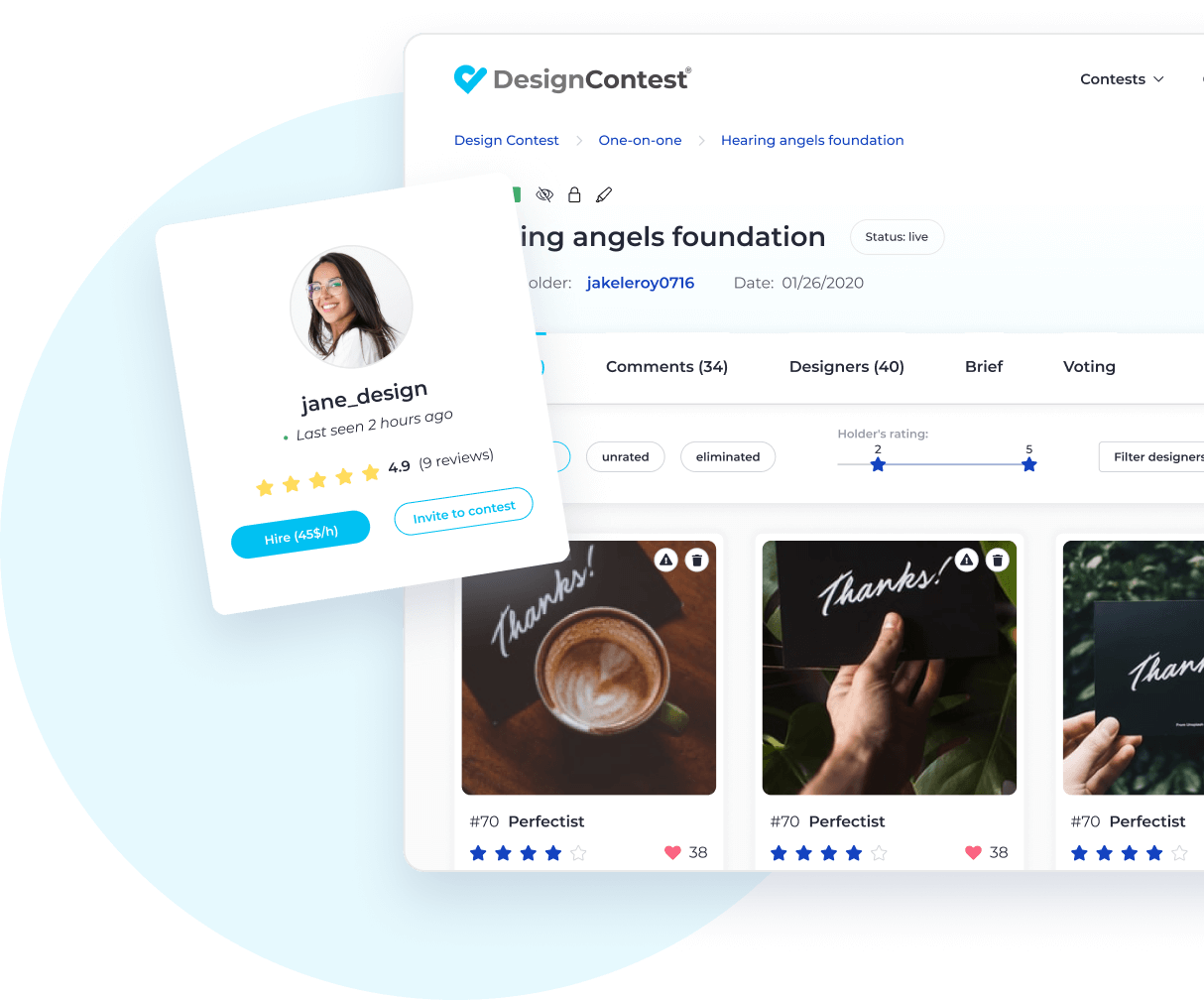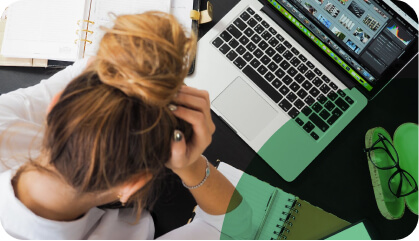 Verbessern Sie Ihre Design-Fähigkeiten
Get valuable experience with constructive feedback from clients. Participating in design contests creates healthy competition, encourages you to think outside the box to create unique and innovative designs.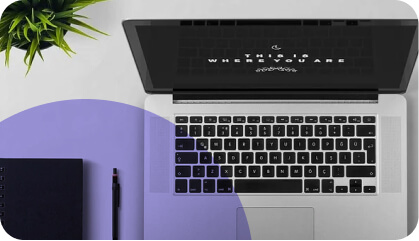 Build a personal portfolio
When you participate in contests, you contribute to building your professional portfolio. Promote yourself by sharing a link to your portfolio with other contest holders as well as your future clients.
Control everything in a single place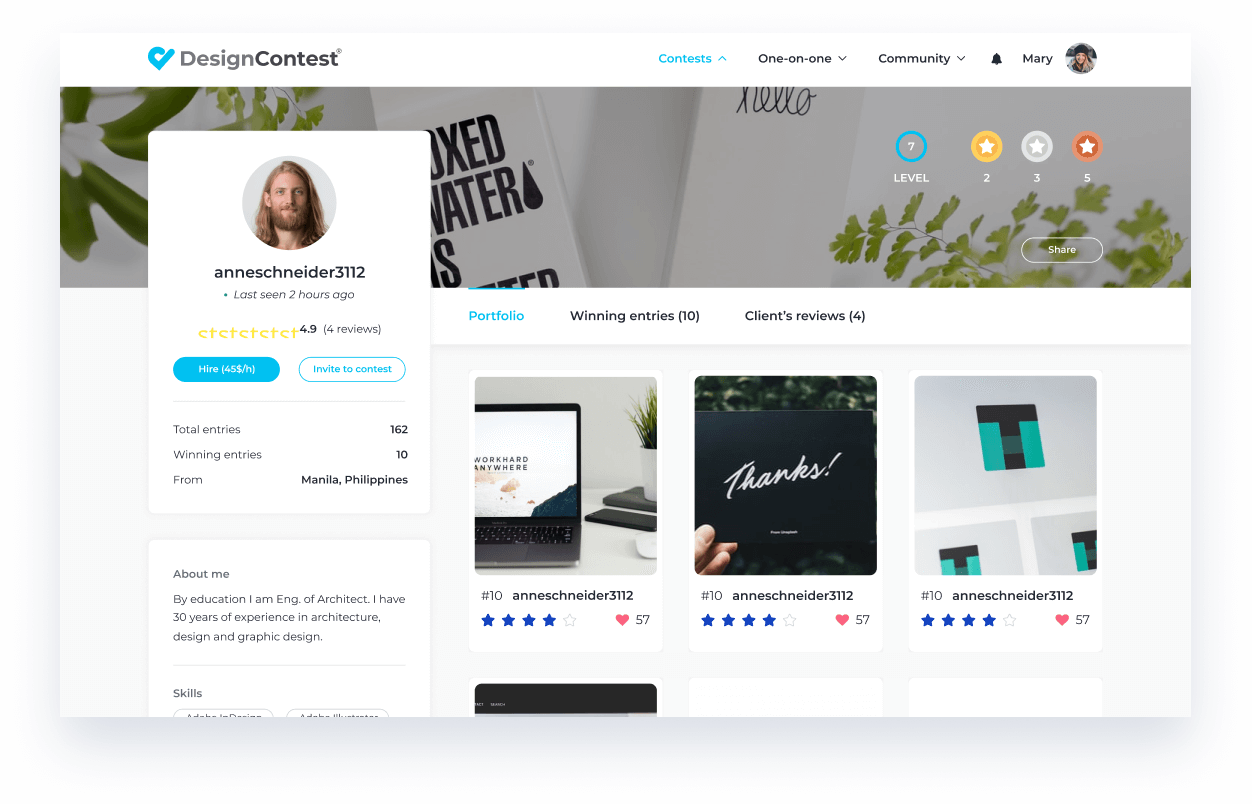 Discussions
Get feedback on your artworks from clients and other professionals.
'Like' button
See who liked your design.
Every view counts
Find out how many people have viewed your entry.
Flexible Payout Options
Simply select a payment method that is convenient for you and receive your prize money shortly. There are no additional fees to the transactions.
What do the designers have to say?

@lizonil
Designs: 6418
Gewinne: 169
One word... EXCELLENT. Without a shadow of a doubt, after looking at many online design sites I would have to say that DesignContest is one of the best. They are VERY strict on copyright infringement, the top designers are first rate. You only need to look at the designers portfolios to see this. It is easy to use, and if the contest holder is not satisfied for some reason then he can have his money back. On rare occasions when a 'team' of people cannot agree on one logo, this sometimes happens. I would thoroughly recommend it. The site is friendly, the staff is very helpful, and the designers can have a great sense of humor and work together well.

@paintedPony
Designs: 1613
Gewinne: 78
Ich genieße die Flexibilität von meinen Zeitplan, indem ich an DesignContest arbeite und an dem Wettbewerb teilnahme. Das eigentliche Ziel, die Ich mag - Klienten zu helfen, genau mit dem Design, das sie wollen. Die Administration, Support - alles auf höchstem Niveau, und es ist toll !

@Babba
Designs: 1613
Gewinne: 78
Not another ".com" money maker service I was looking for some design contests for my very first time, and I stumbled upon Designcontest.com. I took my chances, and join in. At first it was irritating a bit... rules, rules and more rules. Didn't quite get it. I went for other similar sites, and was very much disappointed... It didn't take much to realize all those rules and their necessity. Now, It has been more than two years that I am being part of Designcontest.com. Why choose DesignContest among all of those sites? No matter if you are a client or designer you will get 100% professional care and protection. Frauds are not acceptable. You will get quality design service and technical support. You will meet kind and very helpful DC staff, with their expertise and assistance available 24/7h. You will get easy navigate site pages. You will get your customized design in a short period of time for the best price. You will get design offers from all around the world. You can have your design made by master designers. You will develop yourself in design field. You will meet some nice folks out there. You wouldn't get just another ".com", YOU WILL GET COMMUNITY, where you can feel like at home.

@operhal
Designs: 2841
Gewinne: 181
To be honest - There is no place like DesignContest.com! I am a designer on DesignContest for more than 3 years. I tried some similar sites but I figure out that DC is just the right place for me! Support is great - which is the most important thing for designer. Our designs are rated and we get feedbacks for our works on a regular basis. I have met some great people there - so design community is pretty active. Can you imagine that there are more than 150.000 registered designers from all around the world? Of course, a lot of them are not so active or familiar with the rules. Those who not follow the rules get banned. So, copycats are well monitored and clients get their protection. For those who plan to become a client of DC be sure that a lot of SUPERB designers will help you to make your idea alive!

@Seerat.Razzaki
Designs: 2537
Gewinne: 55
Excellent Marketplace for designer & customer. Loved it! I sign up as a designer on DesignContest 2 years ago & from then this is the best place I've ever worked as a freelance designer. Payment & other opportunities are great here. I won many contests & got some wonderful clients through one-on-one projects. Love to be a part of DC. Admin & moderator are so helpful, whenever any trouble arrives they've solved it quickly. Recommend Design contest to everyone🙂🙂

nicolets
Designs: 17465
Gewinne: 200
Perfect Site for All Design Forms. It's been 6 years since I entered this site, this brought me great experience, working with great and appreciative clients who are very helpful for making me a great designer. The site admins are also very helpful when there are some queries about the project... As a designer, I am recommending this to the whole world.. Join us now and be a part of this great and quality design company!

ramsro
Designs: 1137
Gewinne: 74
"OMG, this thing really works"🙂. In my country, these crowdsourcing platforms weren't that popular. So I was curious to try and my first win was something like "OMG, this thing really works"🙂. I'm here for more than 5 years and even if I have accounts on other platforms also this's my favorite place to work. I grew as a designer, met wonderful people, had challenging projects so I couldn't be more happy and grateful for everything. Thank you, DC for being there!🙂

imranpro
Designs: 7129
Gewinne: 29
DesignContest is more than the best! I just don't have words to explain DC. Just salute! When I was a beginner none accepting my work but DC give me the opportunity to work here. Now I am a level 9 designer. And I did dozens of successful projects. DC Just changed my life. Now it's a part of my life. I really love DC so much. I am grateful forever. The admin Moderators are really awesome they politely handle all kinds of situations. Best wishes for DC.
Wettbewerbe sehen
We are a small veteran owned & operator trash bin cleaning company. I would like a shiny (clean) bin showing confidence/dominance. I would like an American...

97

Designs

$295

Preis

Closed

We are a finance SaaS start-up which allows home owners, investors and real estate agents to analyze and compare prospective residential real estate investment...

569

Designs

CA$370

Preis

Closed

We are a newly established cookie vendor. Attached is a baseline idea that we would like artists to feel free to expand on using their individual artistic style...

117

Designs

$295

Preis

Closed

We are a small farm/market shop. We want to incorporate plants into the logo and would love to see options with mushrooms, flowers, vegetables, micro-greens, su...

319

Designs

$295

Preis

Closed

UPDATE: PLEASE READ CAREFULLY and DON'T google the company, all you need to know is here!We are a young software development company creating SaaS (software as...

1220

Designs

€255

Preis

Closed

Fūk Puks are motorcycle racing knee sliders , we need a cool fun not too serious logo for promotion . it would be co...

359

Designs

$495

Preis

Closed

We need a Conference Logo...

1335

Designs

$295

Preis

Closed

we are a trash can cleaning service that will come to your house and clean your garbage cans. not quite sure on what logo we would like but thinking either cart...

70

Designs

$295

Preis

Closed
Alle Wettbewerbe sehen
DesignContest is a community shaped by the joint efforts of talented graphic designers. We value the originality and input of every designer.
Become part of the community